bashezo

(ze/zir/zirs, they/them/theirs)
My current work addresses microaggressions; it represents visual manifestations of the defense mechanisms I have personally constructed and encountered as a gender fluid queer person of color and those I have witnessed on other racialized and gender nonconforming bodies in the U.S. The pieces in this series examine the sociality and fluid nature of human defense mechanisms. The lives people of color and queer/trans folks of color are threatened daily, and I believe my art has a responsibility to acknowledge and protest against oppressive and violent sociocultural and political biases and practices that contribute to those daily threats.
Project Summary
Resuscitation
is a dynamic installation and performance art project inspired by investigations and articulations of issues around queer identities and how creative processes facilitate personal sites of power that can combat oppression; promote holistic well-being.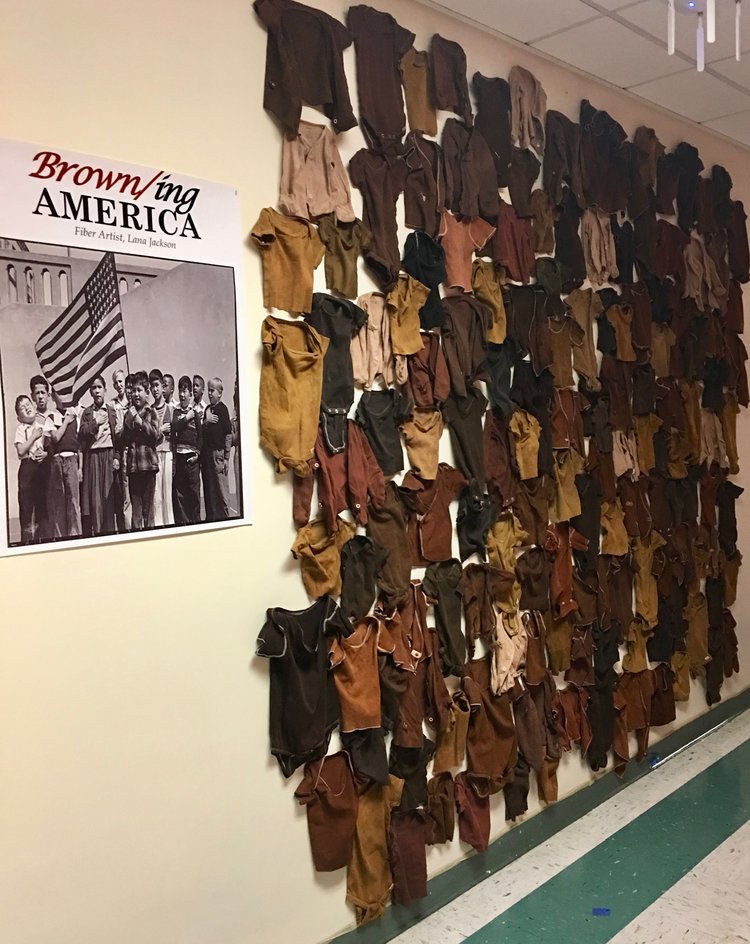 Lana Jackson
(she/her/hers)

I am a process artist. My process of making and the content are oftentimes synonymous. I use paper, fiber, thread, paint, and wood in non-traditional ways. Oftentimes mating multiple objects that become singular. My hope is that the viewer will stop, look, feel and consider my choice of materials and their placement, that the viewer is impacted by the repetitive –where the dialogue then begins.

Project Summary
Brown/ing America is a civic engagement arts installation devoted to stimulate civic dialogue about race in America 2016. Several hundred newborn and first-year baby undershirts, rust-stained in color variations from tan to black hung below a two-dimensional image of an enlarged bull's eye target. Placed on both side of the "target" are enlarged images of bullet holes. The undershirts, symbolic of brown and black race, are also symbolic about the severity of living in a race-conscious society today.


Lolita Parker, Jr.
(she/her/hers)

As an action-oriented photographer, oral historian and citizen about town, I live/love to create. Using creativity in the broadest sense of the word I co-create community, gallery shows, archives, garden beds and personal/political imagery now totaling into the terabytes. With a wave of an intellectual wand, I roll up my sleeves, find helpers along the way and work till the magic happens.

Project Summary
This fall, with Lower Roxbury's United Neighbors's Community Garden as backdrop, Lolita Parker Jr.'s History in the Garden: Growing Ideas, Cultivating Imagination, Harvesting Pride, features sidewalk photo murals depicting the area's vibrant past. From a bewildered 18 year old wondering why 1976 Lower Roxbury looked like a WWII set to the 36 year old whose first job in Boston was to study/photographically research Lower Roxbury's decimation by design to now, her current work is a culmination of 42 years of thinking and researching.


Nadya Cuevas
(she/her/hers)

We are all born into this world with a history. What I do with my history and my art practice finds ways to address my experience in it. My history involves migration and issues of race experienced both in the United States and Puerto Rico, my birth place. At the age of ten, my parents made the decision to move from Puerto Rico to Florida. Immigration is an immediate issue in the United States and with it comes discrimination, prejudice, and stereotyping. As a means of negotiating alienation and the absence of familiar people an places, I turned to the arts to explore my identity. Consequently, my passion emerged for unearthing a visual language to better articulate through portraiture my observation and/or interpretation of my Latino American experience. As an artist my interest lies in using the history of portraiture and current cultural trends to produce images of both my physical and emotional experiences of displacement.

Project Summary
I aim to explore narrative structures by recovering the untold or forgotten histories of my Puerto Rican heritage. Specifically, the involvement of family with the Nationalist movement in the 1940s and Pedro Albizu Campos.